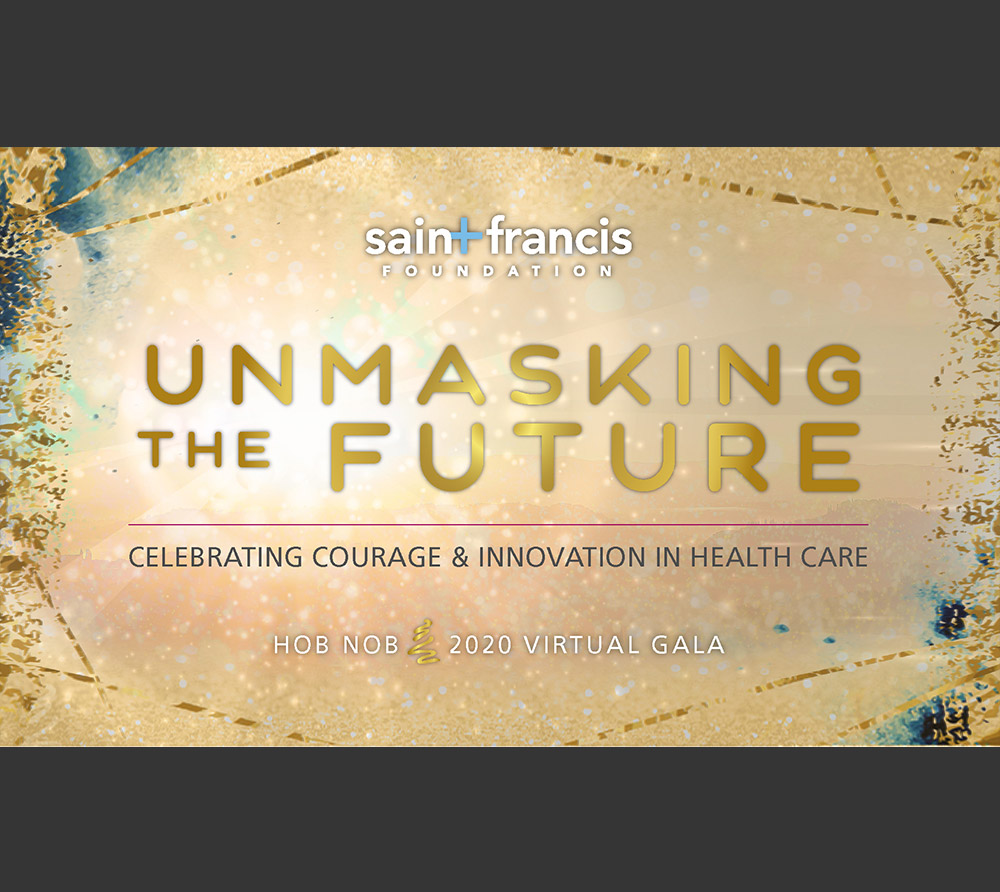 Hob Nob 2020 Virtual Gala
Hob Nob with us at home!
On Saturday, December 12, over 250 households joined us for an inspirational and glamorous virtual event with a nod to the 25-year gala tradition held annually at the Fairmont Hotel, "Hob Nob on the Hill."  Together, we raised more than $300k in celebration of the courage and innovation of Saint Francis Memorial Hospital during this challenging year.
Our event featured:
A live broadcast emceed by local auctioneer favorite, Greg Quiroga
Special message from California Governor Gavin Newsom
Performance by Grammy-nominated singer/song-writer, Carla Helmbrecht
Lively entertainment featuring SFBATCO
VIP and sponsor pre-event reception (online via zoom)
Presentation of the 2020 Bella Farrow Award to Dr. Kathleen Jordan
Online auction with fun experiences and unique packages.
Your virtual attendance funds vital services:
Your support matters:
For more than 116 years, Saint Francis Memorial Hospital has been an anchor for everyone in the San Francisco community, offering unmatched healthcare to vulnerable populations, never turning away anyone in need of help. The Hospital courageously cares for our community through natural disasters and other crises like wildfires, earthquakes, the AIDS epidemic, and now the COVID-19 pandemic.
Thank you for supporting Saint Francis Memorial Hospital and its incredible frontline heroes!
Hob Nob Virtual Photo Booth
Thank you to our Gala Host Committee:
Kate Smith, Gala Chair
Arjun Arora
Donna Miller Casey
Elly Chen
Judy Davies
Maureen Gannon
Michele Hanson
Sharon Hayman
Chris Meza
Nili Poynter
Nicole Prieto
Sarita Satpathy MD
Elisa Stephens
Claudia Volpi
Daniella Vallurupalli
Amymade Graphic Design, BATCO, Betty Zlatchin Catering, Dan Chan, Denbo Family, Do Good Events, Teresa Doyle, Event Architects, Glodow Nead Communications, Richard F Grossman MD FACS, Carla Helmbrecht, Dr. Kathleen Jordan, Davia Loren MD, William Donnie Nelson, Toni Newman, Governor Gavin Newsom, Mona Orady MD, Greg Quiroga, SnapFiesta, Lori Puccinelli Stern, Robert Strawder, Torres Studios, Heidi Wittenberg MD
Thank you SFMH Physicians:
Thomas Ahlberg MD, The Buncke Clinic, Elly Chen, Anne Cummings MD, Jordan Deschamps-Braly MD, Richard F Grossman MD FACS, Susen Grossman, Karen Horton MD, Edward Lee MD, Man-Kit Leung MD, Walter Lin MD, Frank Malin MD, J David Malone MD, Sarita Satpathy MD, Thomas Satterwhite MD, Kevin Stone MD, Heidi Wittenberg MD, Ginger Xu MD

The Saint Francis Foundation Thanks These Proud Sponsors