Advancing Community Health
Many of San Francisco's most medically vulnerable residents live in the nearby Tenderloin neighborhood and face complex health challenges that result in repeated Hospital and Emergency Department visits.
As part of our mission to ensure high-quality community health care for all, the Foundation facilitates links with non-profit partners to extend an effective continuum of care between Hospital services and local residents.
To date, the Foundation has provided more than $6.5 million in grants to our strong network of community health partners.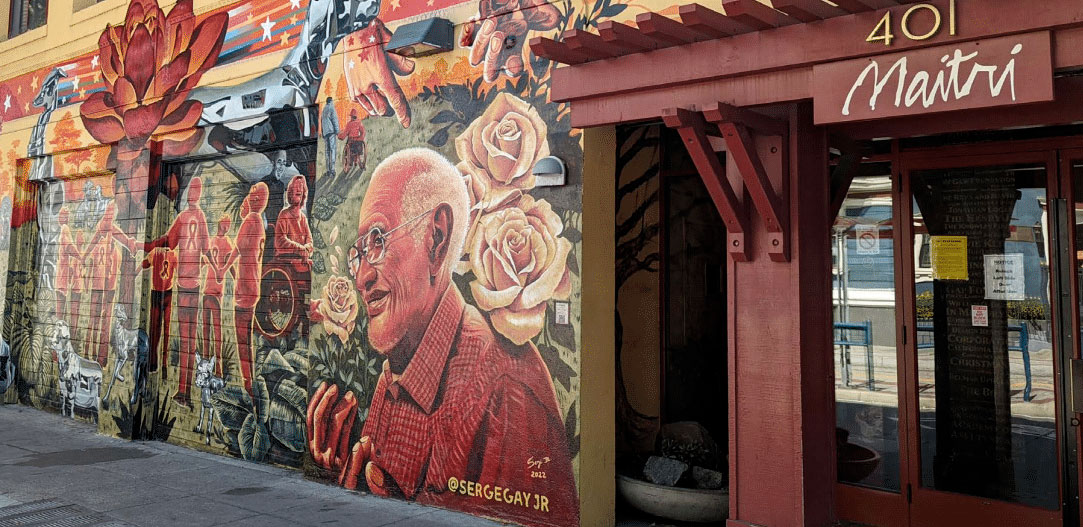 Our Community Partners in Care
Located just a few blocks from the Hospital in the Tenderloin neighborhood, San Francisco Community Health Center (SFCHC) is a Federally Qualified Health Center focused on meeting the full range of patients' health needs, including medical, dental and mental health care as well as HIV testing and a variety of engagement and support services. The Center provides care for many individuals who identify as Transgender and Gender Diverse, utilizing a team of doctors, social workers, therapists, psychiatric specialists and case managers.
The Health Center serves as a referral agency for the Hospital, enabling patients to have regular access to care in a community-based environment. The Foundation supports a joint working group to build community programs that are responsive to the needs of individuals throughout the gender affirmation process and aligning resources to provide quality health care to Tenderloin residents in general and Gender Institute patients in particular.
Larkin Street Youth Services provides health care, housing, employment and educational services to vulnerable young people living on the streets of San Francisco. Larkin is San Francisco's largest non-profit provider for young people experiencing homelessness and other systemic health issues, including PTSD, trauma, depression and substance abuse.
The Foundation has teamed up with Larkin Street to support and expand behavioral and mental health care for homeless youth in San Francisco, working in partnership to proactively address social crises and chronic mental and physical health issues that can lead to costly and recurring cycles through the City's emergency health system.
For 50 years, Curry Senior Center has taken a holistic approach to helping low-income and homeless seniors in San Francisco's Tenderloin and South of Market neighborhoods. Curry operates a Federally Qualified Health Center providing primary medical care, wellness programs, behavioral health services, case management, and nutritious meals to vulnerable older adults.
Curry is a long-time Foundation community partner working to ensure that seniors have long-term support and access to primary care after being discharged from nearby Saint Francis Memorial Hospital. The Foundation has provided funding to Curry's team of case managers to coordinate patient care beyond the Hospital setting, and recently provided a major gift to Curry's capital campaign to expand the Center's Turk Street footprint to meet growing patient need.
Maitri began in 1987 at the start of San Francisco's AIDS crisis and grew to become a model eight-bed hospice in the City's Castro district. Then as now, the heart of Maitri's work is its Residential Care Program, which provides medical and mental health services to people in need of hospice, 24-hour respite care, or recovery support following gender-affirmation surgery at the Gender Institute.
The Maitri residential care program includes accommodations, spiritual support, healthy meals, case management, therapy, and social activities. A long-time supporter, the Foundation recently provided seed funding to expand the Maitri Affirmation Center from one- to three-rooms, providing new and much-needed residential resources for individuals following gender affirmation surgery.
For nearly 60 years Glide has been providing services to meet the most basic needs of the most vulnerable in San Francisco: food, shelter and companionship.
The Saint Francis Foundation frequently partners with Glide to deliver better behavioral health care and harm reduction outcomes to Glide clients suffering from substance abuse issues and cycling through the local health care system. Through its grants, the Foundation helps further Glide's mission to improve health care access and patient outcomes for our most vulnerable neighbors.
Lyon-Martin Community Health Services provides high-quality, compassionate and trauma-informed medical, gynecological and mental health care services to the City's trans, non-binary, gender non-conforming, and intersex (TGI) communities and cis-gender women regardless of immigration status or ability to pay. Working to support the most vulnerable in the TGI community, Lyon-Martin provides clinical primary and mental health care to more than 4,200 individuals annually.
The Foundation has partnered with Lyon-Martin since 2014, and recently provided a lead gift to support the non-profit's much-needed new and larger health care center.