Support the new combined Intensive Care and Coronary Care Center.
Every day, critically ill patients at Saint Francis Memorial Hospital receive the highest level of care from dedicated teams of specialists in the Intensive Care Unit (ICU) and Coronary Care Unit (CCU). Now, we need your support so we can strengthen our ability to provide these vital services.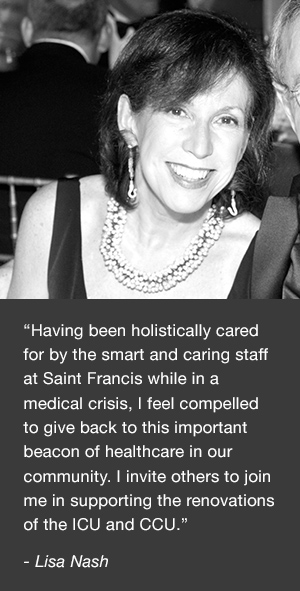 Transforming critical care for our most vulnerable patients
The ICU and CCU provide 24/7 monitoring of our most seriously ill patients, from stroke victims and patients with head trauma to those recovering from major surgery. The new ICU/CCU Center will occupy an existing 8,000-square-foot area of the Hospital to house 10 patient rooms with the latest monitoring systems, a centrally located nurse's station, a physician's consult room, and a new family waiting room. The renovation plan also includes two new elevators to provide fast, easy transport from the Emergency Department. When complete, the new Center will not only improve efficiency for staff delivering care, but it will enhance the healing experience for patients and families.
Our fundraising goal is in sight. Will you help us cross the finish line?
Our vision for a combined ICU/CCU Center has been years in the making, and plans are now finalized with the design phase already underway. We anticipate a two-year timeline, with expansion and renovation expected to begin in August 2018 and estimated completion in the late summer / early fall of 2020. The Saint Francis Foundation, in cooperation with the Hospital Board of Trustees, has already raised a substantial portion of the $8.6 million project budget. Now we need your help to achieve the final $2 million so we can make this vision a reality.
Together we can elevate care for patients who need it most!
Please support the ICU/CCU Center today.
If you prefer to discuss your gift with a member of the Philanthropy Team please call 415-353-6650.