Foundation Beneficiary of Heather James Fine Art and Artsy Auction
Foundation News & Updates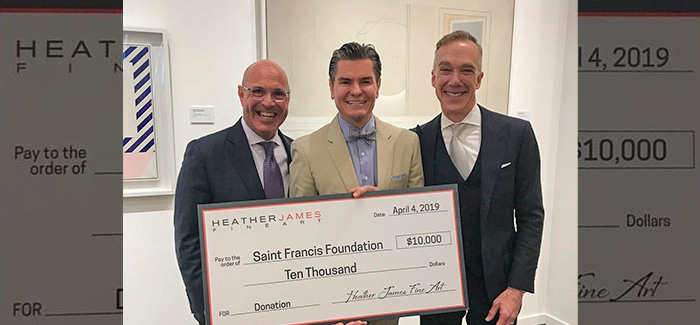 In February, Heather James Fine Art San Francisco, which has provided the highest level of service to art collectors world-wide for over 20 years, partnered with Artsy to host an online art auction benefiting the Saint Francis Foundation. The art auction included notable works by Shepard Fairey, Danny Singer, Joan Miro, Sam Gilliam, Louise Nevelson, Takashi Murakami and more.
Last week, Richard Kolosky, Gallery Director (pictured left), presented the Foundation with a $10,000 check from proceeds raised through the art auction. The check was presented to Christopher J. Meza, Board Member (center), and Mark Ryle, Foundation President (pictured right). "Heather James Fine Art is proud to support Saint Francis Memorial Hospital and the health of our community in San Francisco," said Kolosky.
With this generous gift from Heather James Fine Art and others, the Saint Francis Foundation Ambassadors raised over $150,000 for the Foundation in support of Saint Francis Memorial Hospital through their annual fundraiser, An Intimate Evening with Oscar.