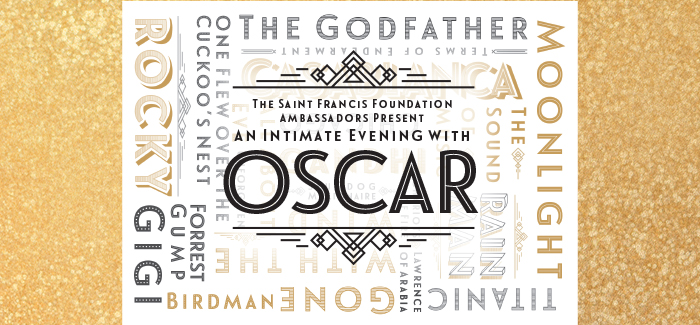 4th Annual An Intimate Evening with Oscar
The Saint Francis Foundation Ambassadors presented a sold out 4th Annual Academy Awards bash, "An Intimate Evening with Oscar," on Sunday, February 24, 2019. The benefit event raised over $150,000 for Saint Francis Foundation in support of Saint Francis Memorial Hospital.
Guests enjoyed a San Francisco-slice of Hollywood glamour, atop Nob Hill in the Fairmont's Penthouse Suite. Friends of the Foundation and other Bay Area philanthropists dazzled in their tux or gown while they walked the red carpet, striking a pose in front of the step and repeat, then heading upstairs to the Penthouse for a one-of-a-kind portrait with The Vanity Portrait Studio. An extravagant menu was prepared by Executive Chef Oscar, with specialty cocktails courtesy of William Grant & Sons. Guests could choose from five screening rooms in the most luxurious real estate in the city. The one and only Honorary Co-Host and emcee Liam Mayclem delighted guests with trivia questions and prizes during the commercial breaks. All proceeds raised from the evening benefitted the Saint Francis Foundation at Saint Francis Memorial Hospital.
Tickets for 2020 will be announced in the upcoming months. 
---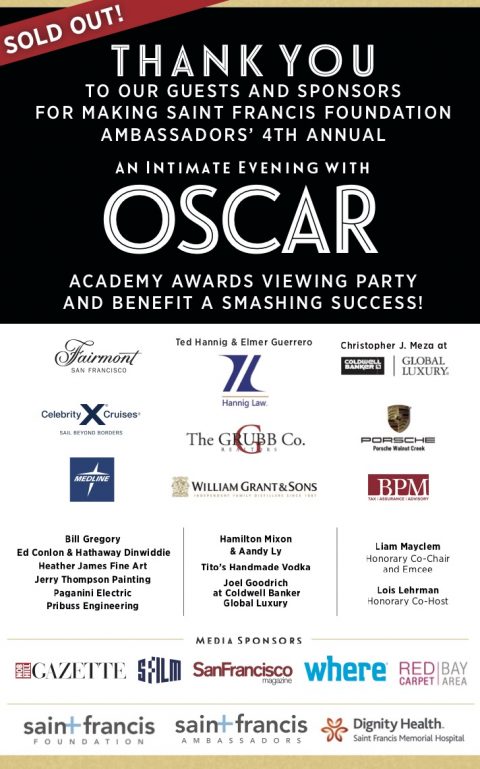 Thank You to Our Host Committee
Christopher J. Meza, Event Chair
Liam Mayclem, Honorary Co-Chair and Emcee
Lois Lehrman, Honorary Co-Host
Navid Armstrong
Arjun Dev Arora
J. Riccardo Benavides
Heide Betz
Becca Bloom
James Bowles & Larry Boyajian
Marilyn & Michael Cabak
Mark Calvano
Erin Carlson
Ed Conlon
Dr. Jordan & Maya Alex Deschamps-Braly
Sean & Katie Fellows
Joel Goodrich
Michael Gregg & Drew Cloud
William Gregory
Roman Gronkowski
David Grubb Jr. & Audrey Sadler Grubb
Ted Hannig & Elmer Guerrero
Michelle Weissman Heston
Brandi Hudson & Charles Hudson III
John Hunt & Charles Scott Dekock
Jax Jacobs
Paul Kalifeh
John Kelley
David Kensington
Hooman Khalili
Natalia Urrutia Kirkland
Dr. David Klein
Debra & Richard Kolosky
Marybeth La Motte
Allison & Marshall Lamm
Jorge Maumer
Liam Mayclem & Rick Camargo
Rich McCracken & Michael Shuster
Markham Miller & Rich Martini
Hamilton Mixon & Aandy Ly
Joshua Morgan
Brian North
Manny Nungaray & Shawn Sherburne
Jill Pietrowiak
Nili Malach Poynter & Rob Poynter
Mark Rhoades
Dr. James Rogers & Steven Fagliarone
Stefanie Roumeliotes & Dr. John Coustorous
Mark Ryle & Stephen Reidy
Dr. Sarita Satpathy
Beth Schnitzer
Adam Shandobil
Ted Smith & Kate MacDonald Smith
Paul Tormey
Miguel Ulloa & David Stahl
Vasily Vein
Doug Waggener
Kerry Weddington
Keith Wetmore & Andrew Hinek
Chip Zecher