TLHIP acknowledged by City officials for improving lives in the Tenderloin
Community Resources & Reports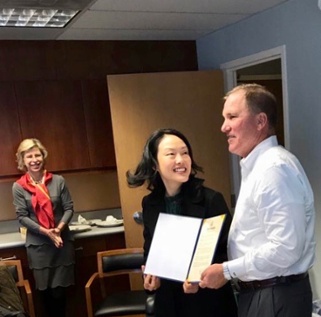 Congratulations to the leadership team of the Tenderloin Health Improvement Partnership (TLHIP) for its work over the past four years.
At the January 25th Saint Francis Foundation Board Meeting, Supervisor Jane Kim issued a proclamation from the City and County of San Francisco acknowledging TLHIP's contributions to improving the lives of residents in the Tenderloin.
The TLHIP leadership team consists of: Jennifer Kiss, Will Douglas, Jennifer Varano and Anne Carta.
Pictured: Jennifer Kiss, Vice Present of Programs/Director of TLHIP; Supervisor Jane Kim; and Mike Soza, Foundation Board Chair.