The Oscar For the Best Academy Awards Party Goes To?
Foundation News & Updates

The Saint Francis Foundation for its fundraising event, An Intimate Evening With Oscar!
That was the clear consensus after last year's successful, black-tie benefit held at the Fairmont Hotel's Penthouse Kennedy Suite, one of the most elegant and scenic locations in San Francisco.
In its second year, An Intimate Evening With Oscar on Sunday, Feb. 26 at the Penthouse promises to be equally as enjoyable and entertaining.
A Lineup To Boast About
Last year was a busy year as we launched the Saint Francis Foundation Ambassadors, the LGBT arm of the Foundation. Our mission is to recognize the diversity, value and needs of the Bay Area LGBT community.
In doing so, the Ambassadors hosted our first ever An Intimate Evening With Oscar, a black-tie fundraising event at the Fairmont Hotel penthouse. Our inaugural event raised over $100,000. In fact, so successful was our first Oscar party, it was clear we'd host another spectacular evening in 2017. Well, here we are in our second year and I'm thrilled to release tickets as of right…NOW!
Here is just a hint of what we'll have in store:
Our Emcee for the evening will be the marvelous, Liam Mayclem, the "Foodie Chap"
Red Carpet photos and cocktails beginning at 5:00 pm when the doors open
A spectacular menu prepared by the Fairmont's renowned Executive Chef, Oscar Gonzales
An open bar hosted by William Grant & Sons, featuring wine by Muscardini Cellars and spirits by Balvenie Scotch, Glenfiddich Scotch, Hendrick's Gin and Reyka Vodka
Five big screen televisions and seating to comfortably watch the Oscars in any number of the glamorous viewing rooms
Musical accompaniment by Ms. Grace Renaud at the baby grand
An Oscar voting scorecard will be given to guests in advance to facilitate a friendly competition to see who knows Hollywood best! Prizes will be given to those who pick the most winners. Random prizes to express our gratitude will also awarded throughout the evening.
Tickets can be purchased here. The Oscar viewing party is limited to 200 guests and is expected to sell out. Make sure to get your tickets now!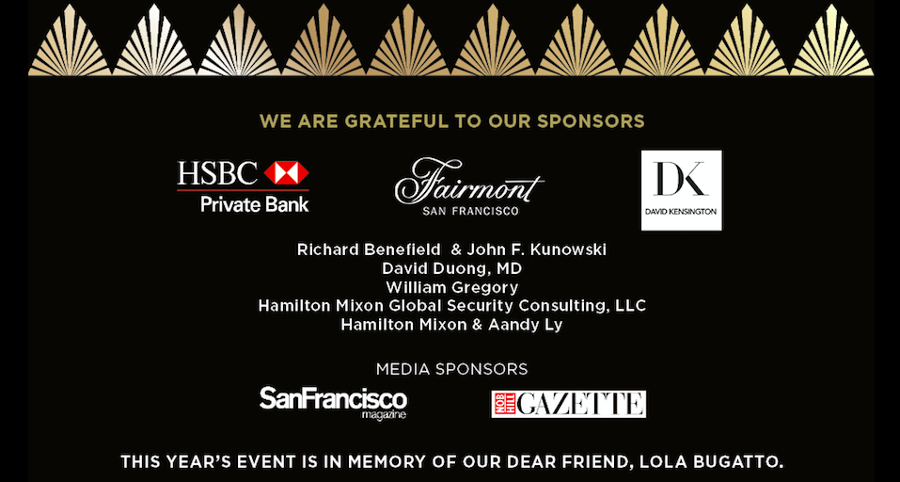 Proceeds Benefit The Foundation's Work in San Francisco
All proceeds from the event will benefit the Saint Francis Foundation, a tax-exempt 501(c)(3). The mission of the Saint Francis Foundation is to raise funds and make grants that support and enhance the ability of Saint Francis Memorial Hospital to deliver exceptional health care services and compassionate care to its patients and to the communities the hospital serves.
The evening, which promises to be memorable, is made possible only through the generosity of our sponsors.
They include our lead sponsor, Mr. Joshua Morgan with HSBC Private Bank, as well as David Kensington, JAKE Atelier + Flagship Showroom, Mr. Richard Benefield and Mr. John F. Kunowski, David Duong, MD, Mr. William Gregory, Hamilton Mixon Global Security Consulting, LLC, and Mr. Hamilton Mixon and Mr. Aandy Ly.
Our media sponsors are Nob Hill Gazette and San Francisco Magazine. San Francisco Magazine is underwriting the wine being served. If you are interested in becoming a sponsor, please send an email to Markham.Miller@DignityHealth.org.
On behalf of the Ambassadors and everyone at the Foundation, I hope you will join us for another amazing evening of fun in support of a worthy cause.