Spring: Season of New Beginnings
Hospital News & Updates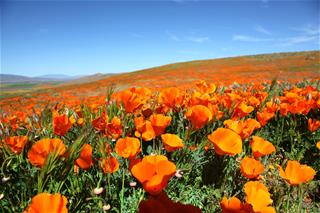 Spring is here!  Adding new life and new beauty to everything.
As I shared in my latest video blog, we are at the one-year anniversary of our area's COVID-19 lockdowns and, for perhaps the first time for many of us, things are starting to look UP!
By almost every measure, we appear to be turning the corner and gaining the upper-hand on the pandemic:
COVID-19 deaths, hospitalizations and new infections are down significantly
In the U.S. – 73M people have been vaccinated against COVID-19 – including more than 200k doses in Bay Area
In the first month of Saint Francis Memorial's partnership with Kaiser, the Moscone Center vaccination site has inoculated 100k vulnerable San Franciscans.
Throughout, the Hospital and the Foundation have been proud to partner with the City's Department of Public Health, Kaiser Permanente and our community clinics.  This collaboration continues today as we drive the city's mass vaccination efforts, including leading the vaccination process at the Moscone Center and at community clinics throughout the City.
Wide scale vaccination is the surest and fastest way to return to as we were before the pandemic.  And, while I understand vaccine hesitancy is real, I encourage anyone with questions to learn more about the available COVID-19 vaccines and to talk with their health care provider to decide what is best for them. There are some great resources here: https://www.hopkinsmedicine.org/health/conditions-and-diseases/coronavirus/covid19-vaccine-hesitancy-12-things-you-need-to-know.
So – as spring awakens us to find a future which is looking brighter – I hope you'll join me in thanking health care professionals for their efforts over this past year and by doing our part in slowing the spread of COVID-19.
Our work continues  
Of course, we all have our "day jobs" and the work of the Saint Francis Foundation continues – pandemic or not.
One recent change I believe is worth noting and overdue.  The Foundation's Board of Directors is pursuing a Diversity, Equity and Inclusion (DEI) policy and the position of a DEI Officer to inform our practices.  One of the Foundation's aims is to make a deep contribution to San Francisco's health and improve access to world-class health care.  To that end, we want to ensure our giving reflects the glorious diversity of the communities we serve.  There are many Black-led nonprofits and other programs addressing health inequities in communities of color.  We want to know them – and for them to know us – so, together, we can learn how we can collaborate and do more.
Gender Institute
Which brings me to the Foundation's recent commitment to the Hospital's Gender Institute.  Before the pandemic, we were beginning to embark on several, concerted efforts to take what the Hospital was already doing in terms of life-saving, gender-affirming surgery and create a "surround sound" of support and resources which touch more points on the continuum of care for our patients' journeys.
To that end, the Foundation has committed $1.5M and, working with the city's and the country's leading transgender and gender non-conforming experts and advocates, we look forward to making more progress in 2021 building out this important support structure.
In active pursuit of giving opportunities
Increasingly, and by necessity, health care isn't only happening in hospitals and other traditional settings.  We recognized this trend prior to COVID-19 – but the pandemic has definitely solidified the movement.  So, we are broadening the Foundation's "field of vision:" beyond the Hospital's four-walls; and making our funding as accessible as we believe all health care should be. You see, we believe that ensuring access to the acute services of this Hospital is one critical tool in building our community's health. We also believe community centered health care and supportive services are as critical in sustaining health.
Our most recent community grantmaking commitment of ($1M) received (15) applications in its first round in the fall.  In our second round of calls for grant applications we expect to have at least as many.  There is so much great work happening in our city when it comes to meeting people where they are on their health journeys and we intend to look at how the Foundation can improve access, support patient health and minimize preventable hospitalizations.   I look forward to sharing more of this small, but important shift in focus over the coming months.
Honor the past, live in the present, create the future
In the aggregate, the times we've lived these past 12 months have taught us many important lessons.  How to care for ourselves and each other in the face of a deadly disease.  How to be agile and nimble in our professional lives (although, if you're listening, God, please no more Zoom calls).  How to bridge distances of six-feet or more and still form (and maintain) important, human connections.  Essentially, how much we can take and still thrive.  I, for one, am vowing not to take many things for granted ever again – such as coffee with a friend, watching a movie at the cinema or large gatherings with family and friends.  In the end – we are all we've got.
Be safe.  Please get vaccinated and continue to use important hygiene and safety protocols, including wearing a mask, social distancing, washing your hands, etc.
Photo Credit: Getty Images/Try Media