Connie Frank Names Pediatric Burn Room in Honor of Shepherd Family
Foundation News & Updates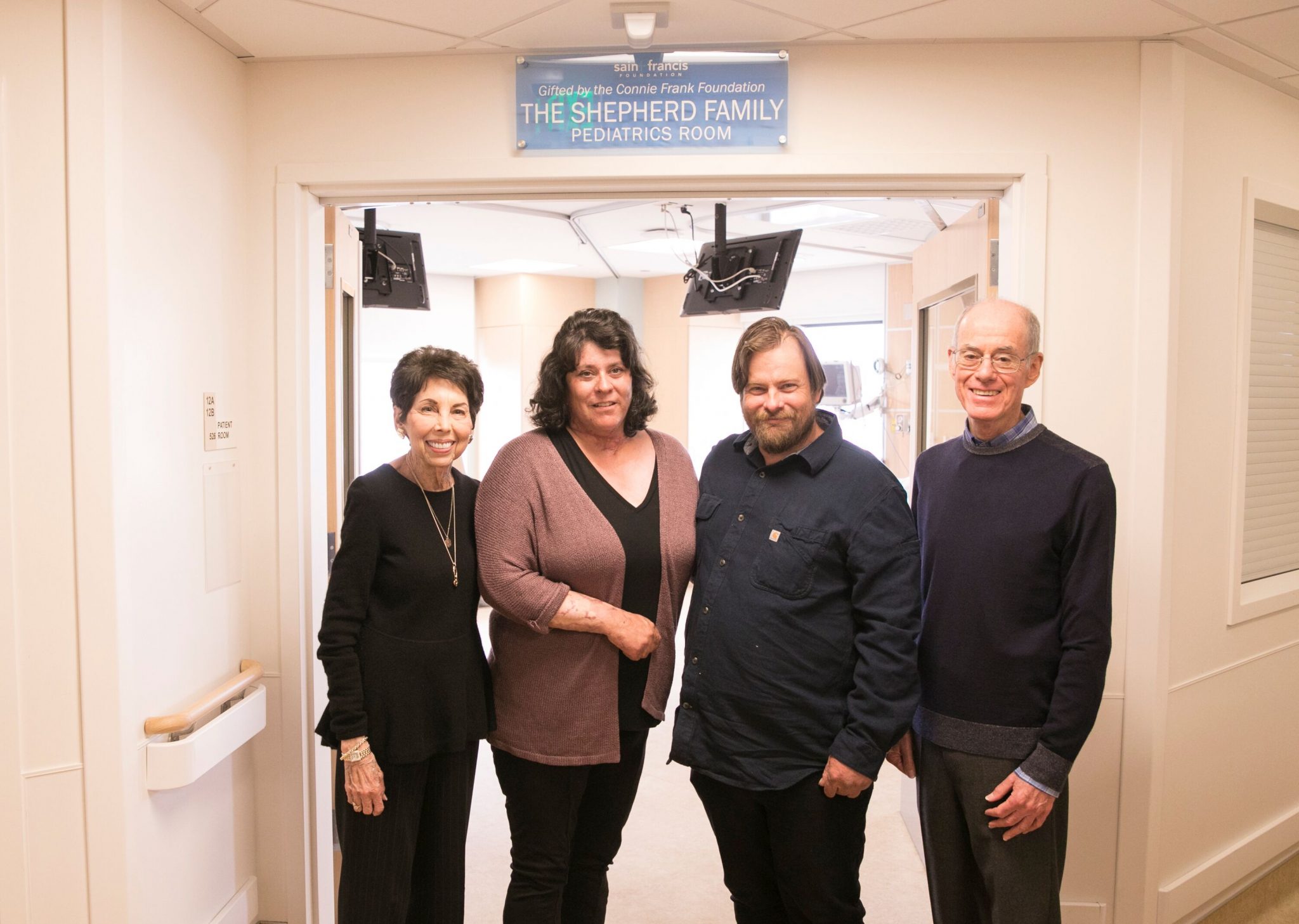 On May 14, 2019, the Saint Francis Foundation held a ceremony to name a pediatrics room in Saint Francis Memorial Hospital's Bothin Burn Center. The Shepherd Family Pediatrics Room was named in honor of Sara and Jon Shepherd who lost their two children, Kai and Kressa, in the North Bay Wildfires that swept through Redwood Valley of Mendocino County in October 2017. At the ceremony, the Shepherd's were joined by philanthropist Connie Frank and her husband Evan Thompson.
When Connie Frank, patient advocate and philanthropist, read about the Shepherd's story in the news, she knew she wanted to reach out and help. She learned that Jon Shepherd had been treated at the Bothin Burn Center, and contacted the Saint Francis Foundation to inquire about making a donation in their honor. Connie's contribution was matched by the community to dedicate a pediatrics room for the Shepherd family. She later learned at the ceremony that it was the exact room where Jon had stayed.
During the ceremony, David Klein, MD, President and CEO of Saint Francis Memorial Hospital, thanked Connie and Evan for making the dedication possible, and commended the highly skilled and compassionate caregivers and partners, including Richard F. Grossman, MD FACS, Medical Director of the Bothin Burn Center. Dr. Grossman proceeded to thank his multi-disciplinary team, the nurses, social workers, therapists and more who work in unison to care for the whole person. Mark Ryle, Saint Francis Foundation President, spoke to the power and beauty of one stranger reaching out to another. Sara and Jon Shepherd were honored and touched by the ceremony.
The group then toured the 16-bed intensive care unit–the largest facility in Northern California that provides world-class, specialized treatment to more than 500 burn victims every year. During the tour, several nurses stopped to say hello to Jon, remembering their former patient. They asked about his recovery, many genuinely happy to see him, everyone telling stories with smiles.
To make a donation to Saint Francis Memorial Hospital's Bothin Burn Center in honor of the Shepherd family and other burn patients, please visit saintfrancisfoundation.org/donate or call 415-353-6650.