Navigating Hope: How Larkin Street Youth Services Transforms Mental Health for Homeless Youth
Community Resources & Reports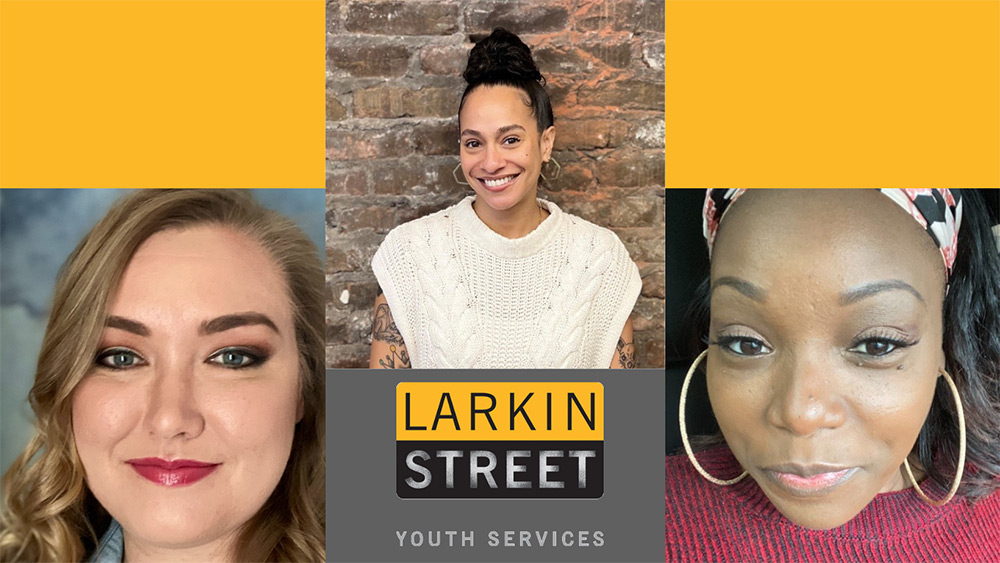 May is recognized as Mental Health Month, a time dedicated to raising awareness about mental health and promoting well-being. During this important month, we have the opportunity to shed light on organizations making a significant impact on the lives of vulnerable populations. This year, we turn our spotlight to Larkin Street Youth Services, a remarkable nonprofit organization dedicated to supporting young people experiencing homelessness. Larkin Street Youth Services has been at the forefront of providing essential services, including comprehensive mental health support, to empower and uplift homeless youth. As we delve into their transformative work, we celebrate their commitment to addressing the mental health needs of youth, providing a safe haven, and fostering resilience in the face of adversity.
We had the opportunity to interview staff members from the Wellness Department: Alisa Albee, Division Director of Wellness Services & Youth Leadership, Tia Bell, Manager of Clinical Services, and Ty Saucer, Manager of Harm Reduction to hear more about their work at Larkin.
Q: Can you tell us a bit about Larkin Street Youth Services and the work you do there?
A: Larkin Street was founded in 1984 and is San Francisco's largest nonprofit provider for young people experiencing homelessness. Our mission is to create a continuum of services that inspires youth to move beyond the street. We nurture potential, promote dignity, and support bold steps by all.
Q: How does Larkin Street Youth Services support the mental health of the youth you serve?
A: The Wellness Department at Larkin Street Youth Services provides a diverse range of wellness services for our clients. This includes drop-in counseling, check-ins, individual therapy, and weekly psychoeducation groups. We aim to meet our clients where they are at in their stage of change, promoting client agency, autonomy, safety, and stability.
Clinical Services and Harm Reduction are two integral programs within the Wellness Department. In 2022, the Wellness Department adopted a new name to reflect the ever-evolving landscape of mental healthcare services, creating a space to be inclusive of our harm reduction initiatives while further emphasizing wellness as an overarching goal for all our clients. We have determined that to continue adapting to the needs of our clients, an integration of Clinical Services and Harm Reduction is the next logical step in cultivating a department that is dynamic, progressive, and innovative.
Q: What types of services and programs does Larkin Street Youth Services offer to support young people experiencing homelessness and mental health challenges?
A: We strive to make our services low-barrier and offer a variety of ways to engage with mental health and harm reduction services that meet the needs and comfortability of the youth we serve. This includes psychoeducation groups on topics like mindfulness and harm reduction, crisis check-in support focusing on safety and coping skills, and individual therapy.
Q: How has Larkin Street Youth Services had an impact on the lives of the young people you work with?
A: Larkin Street Youth Services has had a significant impact on the lives of the young people we work with. We empower youth voice, choice, and opportunity while breaking down stigma related to mental health and substance use. We connect our clients to a wide range of services, addressing their immediate needs such as housing, employment, education, wellness, and food.
Q: Can you share any success stories or examples of youth whose mental health has improved as a result of Larkin Street Youth Services' support?
A: Absolutely. We had a young female client who began mental health treatment while struggling with suicidality, depression, mild psychosis, and anxiety. She was routinely hospitalized due to these challenges. The client was housed but felt insecure due to the trauma she experienced growing up. Although she struggled to trust new providers, she began to work through some of her trauma with a culturally congruent provider. After two years of therapeutic services, she experienced significant improvements in her mental health. She secured stable housing, enrolled in college, found a job she loved, and developed a supportive network of friends. Throughout her treatment, she reduced her suicidality, depression, and anxiety, and did not experience psychosis or hospitalizations.
Q: What do you hope to see in the future in terms of mental health support and resources for youth experiencing homelessness?
A: We would like to see increased funding for mental health and substance use services specifically tailored to transitional-aged youth (TAY). This includes more inpatient treatment beds and step-down programs that cater to the unique needs of TAY aged youth. Additionally, we advocate for the availability of culturally congruent clinicians who can effectively meet the needs of BIPOC clients.
Q: How can the community get involved and support the work of Larkin Street Youth Services in addressing mental health challenges among homeless youth?
A: The community can support our work by engaging in activities that destigmatize mental health, substance use, and homelessness. Additionally, advocating for increased services for youth and better pay for community-based mental health providers is crucial. Many providers are forced to choose private practice or government agencies due to the need for a livable wage in the Bay Area.
Q: Are there any misconceptions or stereotypes about homelessness or mental health that you would like to dispel?
A: There are several misconceptions, but two common ones are that people choose to be homeless and that individuals with mental health challenges are "crazy." Homelessness is not a choice, as no one willingly chooses to sleep on the streets. Many individuals become homeless
Q: Lastly, what advice would you give to someone who is struggling with their mental health and experiencing homelessness?
A: Support looks differently for everyone; it's important to find what works for you. Seek out resources and services that align with your needs and preferences. Don't hesitate to advocate for what you need until you receive the support you deserve. Remember, never settle for less than what you require to prioritize your mental well-being.
Larkin Street Youth Services provides health care, housing, employment and educational services to vulnerable young people living on the streets of San Francisco. Larkin is San Francisco's largest non-profit provider for young people experiencing homelessness and other systemic health issues, including PTSD, trauma, depression and substance abuse.
The Foundation has teamed up with Larkin Street to support and expand behavioral and mental health care for homeless youth in San Francisco, working in partnership to proactively address social crises and chronic mental and physical health issues that can lead to costly and recurring cycles through the City's emergency health system.