Introducing…the quarterly Board Brief, a donor update from the Board of Directors
Foundation News & Updates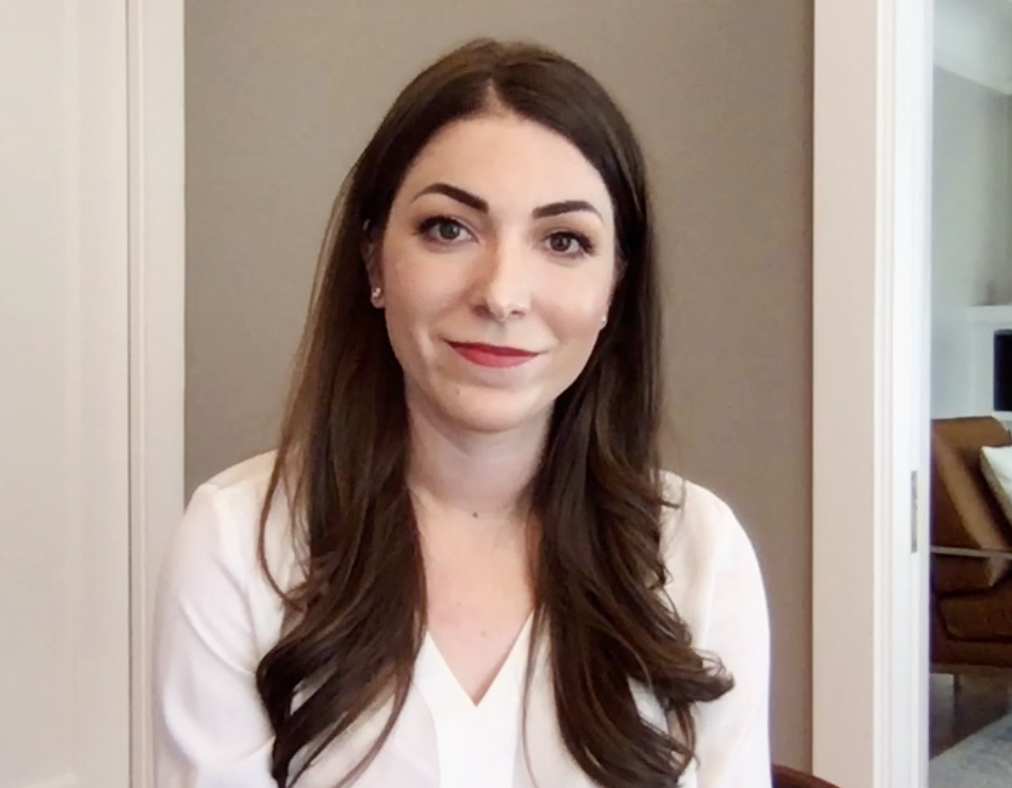 THE BOARD BRIEF
Your quarterly charitable check-up
from the Saint Francis Foundation Board of Directors

There's nothing better than going to a regular check-up and learning that everything is on track and you've got what you need to stay healthy and informed. 

Whether or not you're a patient of Saint Francis Memorial Hospital, we're scheduling a way for our supporters to also have regular check-ups—in the form of quick, informative updates showing how the Saint Francis Foundation is tracking with your philanthropic priorities. 
We're rolling out "The Board Brief," a quarterly video update (and accompanying written update) that will give you a glimpse of how your charitable dollars are being utilized at the Hospital and in the community.

These video updates will be shared in January, April, July, and October just after each quarterly board meeting and will feature a variety of Saint Francis Foundation Board Members. We promise to make these short and sweet—three minutes or less!
Here's our first update… from the Vice Chair of the Board, Daniella Vallurupalli.
Watch now: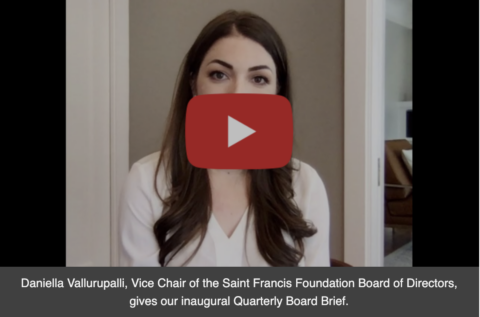 The Board Brief, July 2020: Community Crisis Response Fund
Today we are providing our first update on the progress made by the Community Crisis Response Fund (CCRF). The CCRF supports Saint Francis Memorial Hospital and other community-based organizations during critical times stemming from infectious disease, natural disasters, violence or periods of prolonged and intense public emergency response. And, while this fund supports, and will continue to support, the Hospital and the community in a variety of ways, we wanted to highlight the impact it has made in the last three months.
Since we established this fund in March 2020, on the heels of our initial shelter-in-place mandate in San Francisco, we've raised more than $1,000 a week to support the frontline of the frontlines in our community.
As a result of your support, Saint Francis Foundation was able to:
Support the creation and management of San Francisco's ONLY dedicated COVID-19 unit, located at Saint Francis Memorial Hospital.
Issue $157,000 in emergency relief grants, based on need, to Saint Francis Memorial Hospital employees who suddenly faced financial challenges—many are single parents and sole income earners for their families—as the Hospital halted many regular procedures, surgeries, and services to serve the community in a time of crisis.
Purchase iPads for the Hospital to enable video communication between patients and their loved ones while the Hospital needed to restrict outside visitors during the initial phase of the pandemic. This gift was essential to providing patients the ability to connect with their loved ones.
Establish a $200,000 triage fund should the Hospital need additional funds to stem the crisis and any future surge in COVID patients.
Create a $90,656 grant to train additional nurses to be able to staff the Bothin Burn Center in preparation for the fire season and next crisis situation.
Your support helped us be there for the community, and for the hospital professionals who have dedicated their careers to serving the community. Thank you!
We'll continue to keep you apprised of our progress and how you can directly impact the community. In the meantime, please don't forget to share your valuable input with us via our 2020 Supporter Survey!
Sincerely,
2020-21 Board of Directors, Saint Francis Foundation
Scott Taylor, Board Chair
Daniella Vallurupalli, Vice Chair
Jim Aleveras
Arjun Arora
Deanna Berzins
Johnny Boynton
Matt Brady
Ed Conlon
Elsie Fletcher
Richard Grossman, M.D.
Michele Hanson
Brandi Bentley Hudson
Aneesh Krishna
Nili Malach Poynter
Frank Malin, M.D.
Chris Meza
Nicole Prieto
Victor Prieto, M.D.
Sarita Satpathy, M.D.
Kate Smith
Joanne Sun, M.D.
Paul Tormey
Aneal Vallurupalli