Health Care Hero: Angela Smith-Johnson, MSN, RN
Health Care Heroes
Saint Francis Foundation is proud to feature examples of the amazing staff at Saint Francis Memorial Hospital caring for our community, especially during the COVID-19 pandemic.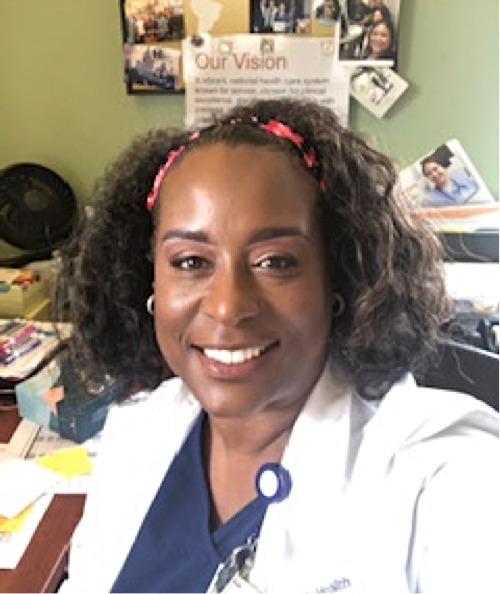 Staff Profile:
Angela Smith-Johnson, MSN, RN
Telemetry
Saint Francis Memorial Hospital
Q. What is most challenging about your work during this current crisis?
A. Maintaining a positive healing work environment that encourages staff to express their fears and concerns in a constructive way. As a leader, I am responsible to quickly dismiss any rumors and ensure the team is apprised of the COVID-19 hospital updates. It has been essential to our staff to understand what tools are available (such as iPads to video chat) that allow our patients to connect with family and friends to minimize the feeling of isolation.
Q. Why do you do what to do? 
A. Becoming a nursing leader has allowed me to take both my personal and career experiences and use them to inspire other nurses to recognize their gift for being caring and compassionate advocates for our extreme disadvantaged patient population.  I believe when we meet a patient at their lowest point we have an opportunity to help them change the negative direction they are going in.  I take time to share my personal stories, like how my brother was homeless and on drugs for many years, but through the kindness and humanity of others, he was able to find his way back.  Now he is as a licensed plumber with his own company and strives everyday to give opportunities and training to others who want to better themselves.  I also share how my life was forever changed by caring for my niece with tracheomalacia and a congenital heart defect from birth…. until she passed away at the young age of 8 years old. This experience made me a better mother, wife and nurse. Through death and loss I have learned how to love and appreciate what life has to give.
Q. What are you learning from this unprecedented situation?
A. I am learning to be more intentional and observant of others, to take time to ask deeper questions about how my team is feeling emotionally. I am encouraging the fun socialization of laughter and positivity through posting photos of them sharing lunches that have been donated by so many great local places. It has allowed us to have better communication with each other as well as our patients.  For myself, I have learned to take time to balance my day with positive and constructive activities that allow me to feel energized and accomplished, and I make sure that at the end of my day I still have time to check-in with my family.
Q. What do you feel most hopeful about right now?
A. I am hopeful because our Mayor and our hospital leadership made the tough but right decisions early on to keep everyone safe and protected through this pandemic while allowing essential workers to have all the necessary protective equipment to care for patients. There is no longer fear or concern of whether or not we will have what is needed…we simply stand together providing patient centered care.