Mayor Announces San Francisco's First COVID-19 Critical Care Unit at Saint Francis Memorial Hospital
Foundation News & Updates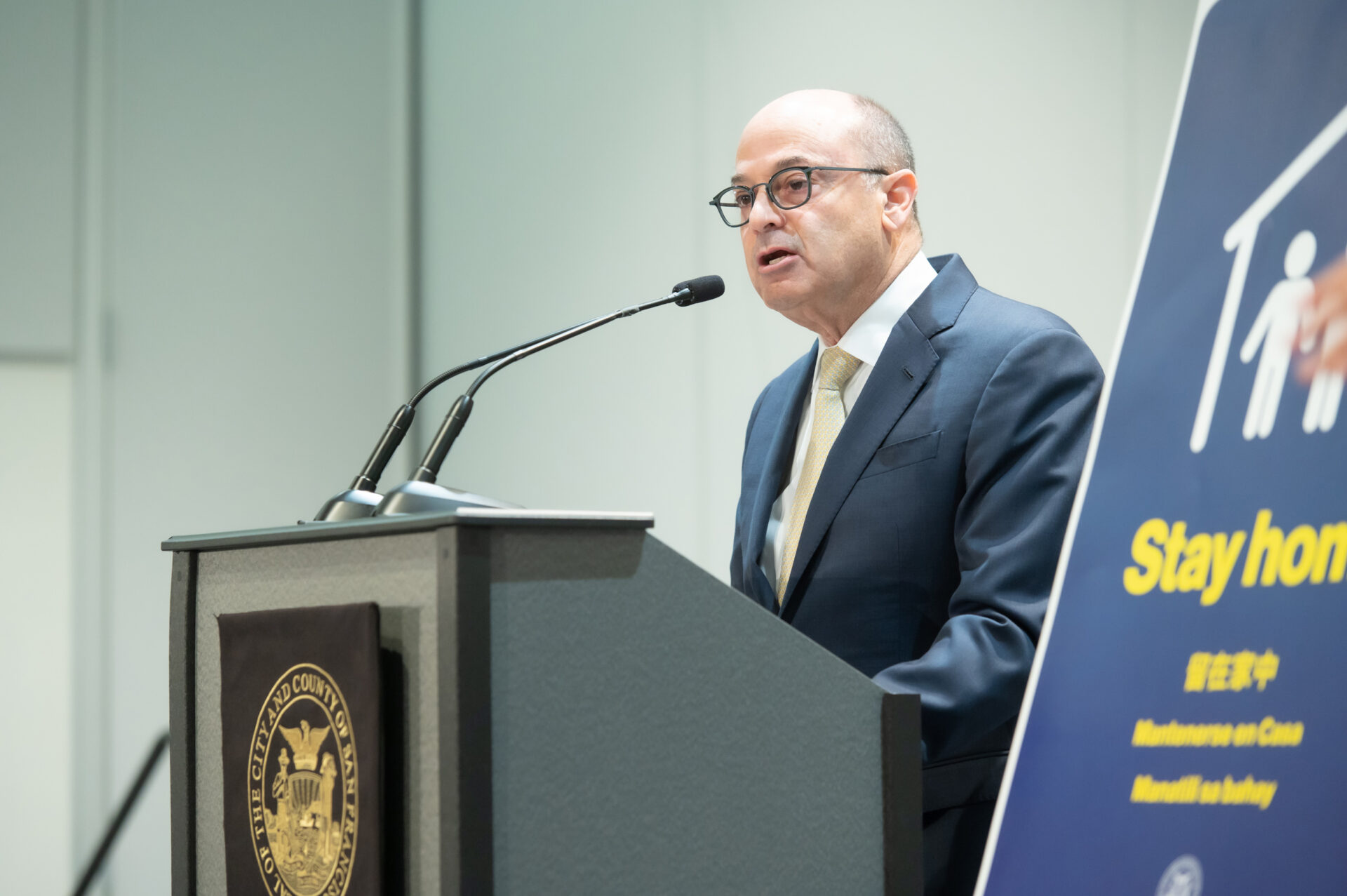 Saint Francis Foundation Commits to a $500,000 Match Program to Support the Hospital & Staff on the Frontlines
(SFMH President Dr. David Klein pictured above) 
Mark Ryle, Saint Francis Foundation President, shares the news in his own words:
Mayor London Breed just announced the city's first dedicated COVID-19 Critical Care Unit, which is located at our very own Saint Francis Memorial Hospital. The first endorsement of its kind in San Francisco, Saint Francis Memorial Hospital has dedicated an entire floor, more than 48 beds, to help meet the demands for coronavirus patients in need of critical care. While I couldn't be more proud of this, I'm not surprised that our Hospital is pioneering the movement.
Since its establishment in 1905, Saint Francis Memorial Hospital has stood on the slopes of Nob Hill as pillar of strength and compassion for the community. Whether you've been a patient at the Hospital before or not, this hospital has left a lasting impression on all of us. Saint Francis has been there for San Francisco in some of our hardest times as a community, and is uniquely positioned to handle emergency situations like the ones we face today. Our dedicated health care providers have always met crises head-on and have been on the frontlines for the community during the 1906 earthquake, the AIDS crisis of the 1990s, the wildfires and the severe burn cases that were cared for in the Bothin Burn center, now to the COVID-19 pandemic. We have the experience, and with acclaimed leadership from Saint Francis' own Dr. Kathleen Jordan, an infectious disease specialist and Chief Medical Officer, we have the leadership to be a valued resource during this time.
Saint Francis may not be the largest, newest, or flashiest Hospital in San Francisco, but I was compelled to remind us that it is the Hospital San Francisco has turned to time and time again to quickly move into action in a time of crisis. I, and the greater Saint Francis Foundation, have always shared that one of the things that makes us so unique is the fact that we are truly a community hospital; we don't turn down patients, and this is why San Francisco puts trust in us when it matters most.
How you can help the teams on the front lines at Saint Francis Memorial Hospital:
Many people have asked how they can help. Please stay home, wash your hands, and be mindful of the fact that this impacts so many people in so many ways. That is the first thing you can do to help our medical teams on the frontlines, and to help your fellow neighbors. We need to flatten the curve and be there for everyone at this time.
And, while we moved into gear swiftly at the Hospital, it does come at a cost. Saint Francis Foundation has committed a $500,000 match plan to support the Hospital, its patients, and our medical staff.
Here are two (new) funds you can support:
Triage Center Critical Supplies Fund: With the active support of our donors, the Foundation will fund up to $250,000 to provide immediate back-up cash for the Hospitals' triage center. Saint Francis Memorial Hospital has converted the Pierotti Pavilion into a temporary emergency center for handling anticipated overflow from the ICU and Emergency Room. We want to ensure that the Hospital can access supplies and other materials needed in order to support an influx of patients.
Hospital Staff Emergency Relief Fund: With support of patients, friends, and donors, the Foundation will award up to $250,000 for small grants to provide emergency relief to our hardworking Hospital Staff who have incurred unexpected personal expenses due to this health care crisis. Being on the frontlines they are asked to make sacrifices to be available and work more hours to meet the needs of our community, and they have done so without question. These grants will range from $1,000 – $5,000 and will be given to support unforeseen costs such as child care, elder care, transportation, school supplies, meals and other necessities.
I'm proud and grateful that the Saint Francis Foundation's Board of Directors have acted swiftly to focus our efforts on these areas and offer this matching program. We have set up a dedicated fund to support the Hospital's increased capacity to respond to the growing healthcare needs of our city. Please consider supporting this new Community Crisis Response Fund (COVID-19) to help those whose lives have been upended by this issue.
We hope you'll join us in supporting this community in any or all of these ways. And of course, please stay healthy and safe during these extraordinary times.
Warmly,
Mark Ryle