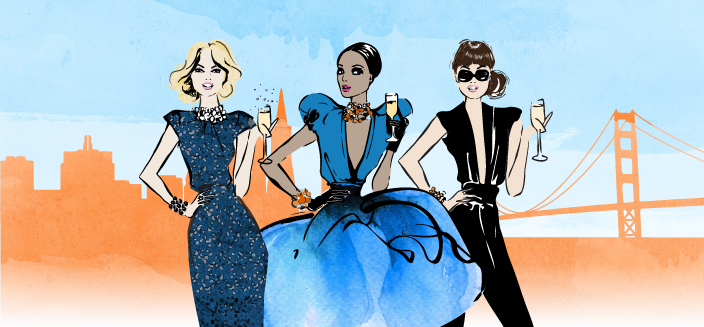 Wine Women & Shoes San Francisco
The Saint Francis Foundation held its third annual Wine Women & Shoes benefit on Sunday, October 13, 2019 at The Ritz-Carlton Hotel, San Francisco from 2:00 – 6:00 pm. This annual celebration brings women together around fine wine, superb style, and a great cause! Your support benefits Saint Francis Memorial Hospital and the specialized care of the Bothin Burn Center, the largest burn unit in Northern California. Read a patient story.
Guests enjoyed:
Designer Fashion Show with Catou
Wine Tasting
Delicious Bites & Afternoon High Tea
Shopping with local and national brands
Silent and Live Auction
One-of-a-kind raffle to win the "Key to the Closet" featuring $10,000 in fashion and accessories
Men's Lounge

VIEW PHOTOS OF OUR 2019 EVENT!
---
THANK YOU TO OUR PARTNERS
Impark • Montgomery Corporation • Christian Louboutin • Bay Area Cosmetic Dermatology • Wound Care Advantage • Hathaway Dinwiddie • Integra
Mackenzie Communications • Robert Harvey, M.D. • Vericel
American Empire Building Services • HCT Executive Interim Management & Consulting • Kentfield Hospital • Squar Milner • NHS Solutions • Poly Medics Innovations • Legg Mason 

FASHION SHOW PARTNERS
PM Special Events • Catou • Sassy B Worldwide Productions, Inc. • City College of San Francisco • Glamsquad • Yours In Fashion By Danesha Greene • Shoes & More of Las Vegas • Urban Rocks
MARKETPLACE VENDORS
Love Thirteen • Kathy Kamei • Christina Choi Cosmetics • Bells & Becks • Metro Man Gifts • Lan Jaenicke • Julius & Colette • Catou • James Paul Cheung • How Heart Thou • Rocks With Soul

WINE PARTNERS
Mora Estate • Conundrum • Sea Sun • Lang & Reed Wine Company • Breathless Sparkling Wines • Bonanza • Perliss Estate Vineyards • Lapis Luna

FRIENDS OF CONNIE HOOKER HONORARY HOST COMMITTEE
Susie Boeing • Jan Buckley • Donna Miller Casey • Nancy Conner • Sue Engs • Elizabeth Everdell • Laura Fay • Isabella Gamble • Joan Gamble • Susen Grossman • Nancy Hammonds • Fifi Holbrook • Carole McNeil • Susie McBaine • Meriwether McGettigan • Cynthia Molstad • Diane Morris • Jeffrey Roos • Patsy Schuchardt • Ann Seymour Morehead • Katherine Shephard • Tania Stepanian • Phyllis Swindells • Wendy Tyndall • Sharon Wick • Cynthia Woods

THANK YOU TO OUR HOST COMMITTEE
Laura Bass • Leyla Daneshmand, Pharm D. • Dottie Dutton • Michele Hanson • Karen Horton, MD • Kathleen Houlehan • Brandi Hudson • Jaime Jensen • Camalin Jones • Chris Meza • Elizabeth Parr, PT • Shalini Patnaik • Kathryn Power, MPH • Nicole Prieto • Rochelle Proctor • Monica Shaham • Lauren Simeone • Mahsa Tehrani • Kathleen Toland • Daniella Vallurupalli