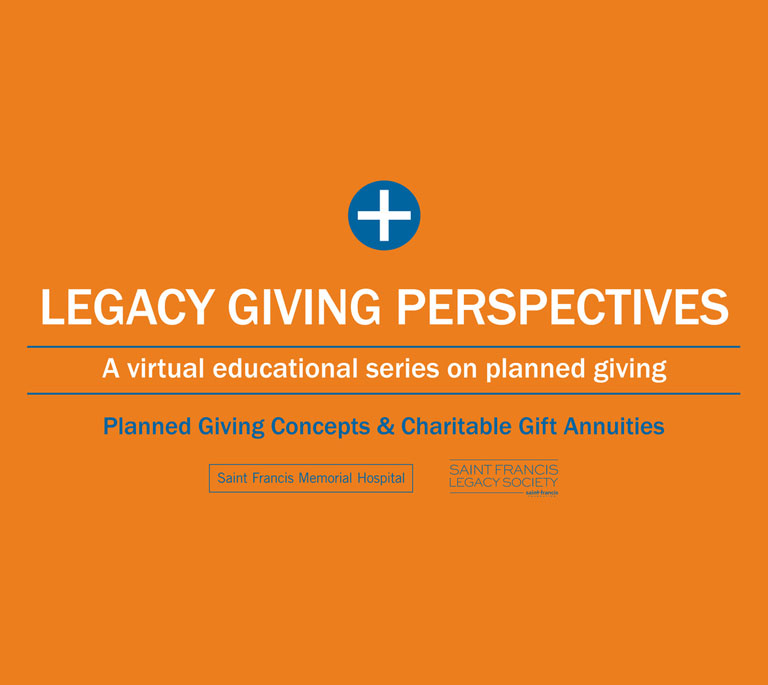 Planned Giving Concepts & Charitable Gift Annuities
You are invited to Planned Giving Concepts & Charitable Gift Annuities, featuring financial planning experts from Wells Fargo.
Tuesday, May 11
4:30 – 5:30 pm PST
This informative event will provide you with:
An overview of the benefits of planned giving, numerous planning options and their features
Insights and tips on financial and gift planning as well as tax savings
How to set up your charitable planning to best benefit you, your family, and the non-profit organizations you care most about
An inside look at Charitable Gift Annuities
How to sustain a legacy beyond your lifetime
How to create a lifetime income stream for you and/or your beneficiaries
Presenters include:
Dr. Brad Moy – Internal Medicine, Occupational Medicine
Matthew E. Brady – Regional Managing Director, Wells Fargo Wealth Management
Tami Wallenstein – Vice President, Sr. Philanthropic Specialist
Mark Ryle – President, Saint Francis Foundation
What you need to know:
It's free to sign up. Register in advance for this webinar.
After registering, you will receive a confirmation email containing information about joining the webinar.
The Q&A session is the best part! Get personalized answers. Send your advance questions to Brooke Bedingfield.
Hope you'll join us.
For more information on planned giving or our Legacy Society, please visit our Legacy Giving web page.