Foundation Breaks Fundraising Records at 2019 Wine Women & Shoes
Foundation News & Updates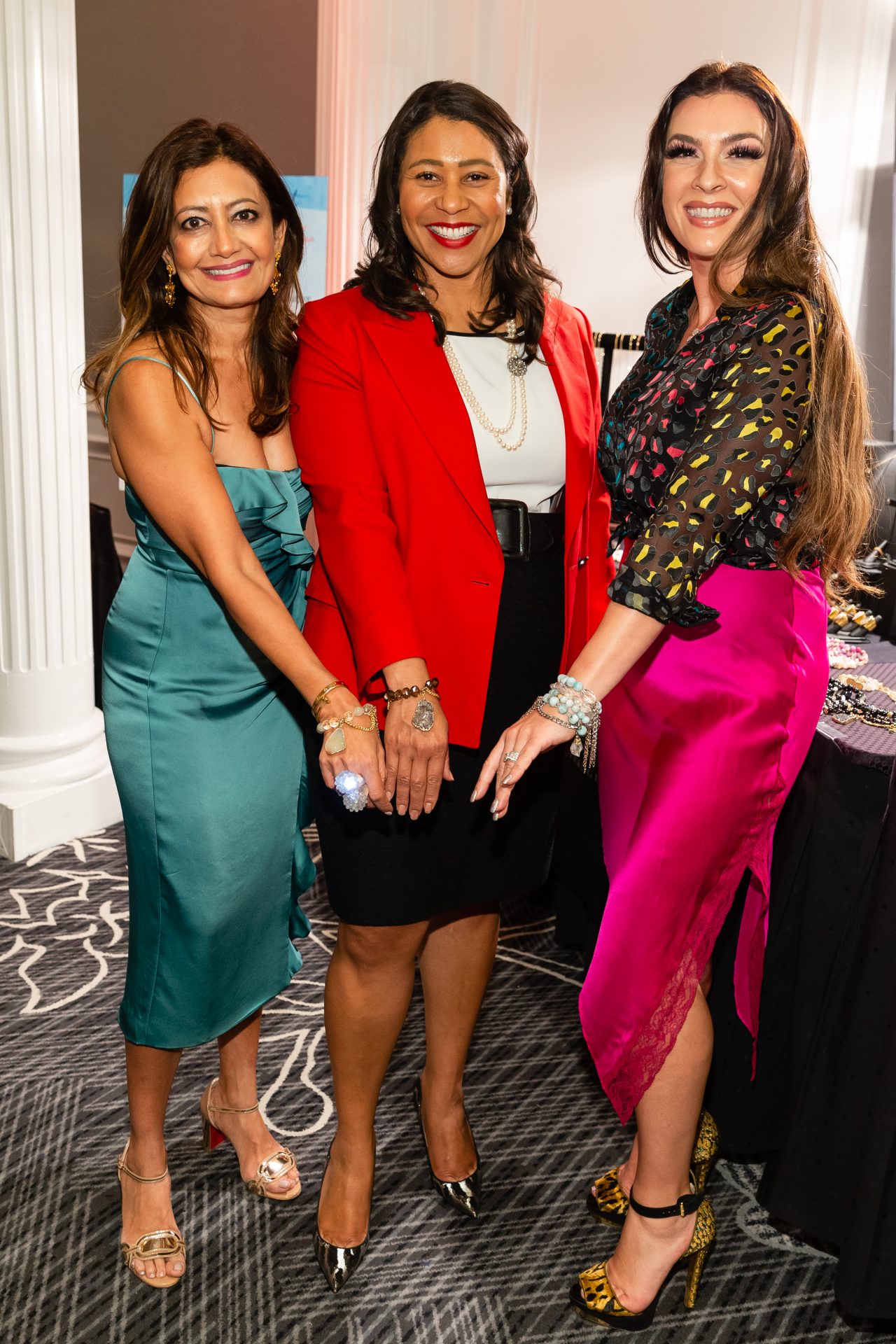 The Saint Francis Foundation, a non-profit organization entrusted to provide philanthropic support to Saint Francis Memorial Hospital and the community it serves, raised more than $300,000 to support The Bothin Burn Center at Wine Women & Shoes. This year's third annual Wine Women & Shoes fundraiser was held on Sunday, October 13, 2019, at The Ritz-Carlton Hotel in the heart of San Francisco. 
The event attracted more than 250 attendees for an afternoon of fashion and compassion—a gathering that brings extraordinary women—and men—together around fine wine, fashion, and a worthy cause. The program included remarks from San Francisco Mayor, London Breed, who was presented with the inaugural Health Leadership Award. Fire Chief Jeanine Nicholson was also honored, accepting the Connie Hooker Courage Award—in memory of the late Connie Hooker, a former Bothin Burn Center patient. 
Since its inception in 1979, The Saint Francis Foundation has donated more than $20 million to the Bothin Burn Center, playing a key role in the unit's ability to offer state-of-the-art care to patients from all over California. "We were honored to see such an outpouring of support and philanthropy this year, recognizing the unwavering commitment of Saint Francis Memorial Hospital to our community," said Mark Ryle, President, Saint Francis Foundation.
The Bothin Burn Center is a 16-bed intensive care unit that serves roughly 500 patients and their families each year. From critical care to rehabilitation, the center takes a comprehensive, multi-disciplinary approach to care, and is the only American Burn Association and American College of Trauma Surgeons verified burn center in Northern California. "The burn center is the only dedicated burn unit in San Francisco, serving roughly 500 patients and families each year. As a parent, it's sobering to hear that almost half of those patients are children," said Dr. David Klein, Saint Francis Memorial Hospital President. "We are grateful for Saint Francis Foundation's support throughout the years, as it has been a critical component of delivering the best possible care for some of the most devastating and complex burn cases."
The holistic team of burn experts includes physical, occupational, and respiratory therapists, as well as plastic surgeons, registered nurses, dietitians, psychiatrists, case managers, and art and play therapists who care for its patients. Learn more about how you can support the Bothin Burn Center.
2019 event photos: Drew Altizer Photography

2019 PARTNERS
Impark, Montgomery Corporation, Christian Louboutin, Bay Area Cosmetic Dermatology, Wound Care Advantage, Hathaway Dinwiddie, Integra, Mackenzie Communications, Robert Harvey, M.D., Vericel, American Empire Building Services, HCT Executive Interim Management & Consulting, Kentfield Hospital, Squar Milner, NHS Solutions, Poly Medics Innovations, and Legg Mason.
FASHION SHOW PARTNERS
PM Special Events, Catou, Sassy B Worldwide Productions, Inc., City College of San Francisco, Glamsquad, Yours In Fashion By Danesha Greene, Shoes & More of Las Vegas, and Urban Rocks. 
MARKETPLACE VENDORS
Love Thirteen, Kathy Kamei, Christina Choi Cosmetics, Bells & Becks, Metro Man Gifts, Lan Jaenicke, Julius & Colette, Catou, James Paul Cheung, How Heart Thou, and Rocks With Soul.
WINE PARTNERS
Mora Estate, Conundrum, Sea Sun, Lang & Reed Wine Company, Breathless Sparkling Wines, Bonanza, Perliss Estate Vineyards, and Lapis Luna.
HONORARY CHAIRS: Cia Townsend and Richard F. Grossman, MD FACS 
FRIENDS OF CONNIE HOOKER HONORARY HOST COMMITTEE
Susie Boeing, Jan Buckley, Donna Miller Casey, Nancy Conner, Sue Engs, Elizabeth Everdell, Laura Fay, Isabella Gamble, Joan Gamble, Susen Grossman, Nancy Hammonds, Fifi Holbrook, Carole McNeil, Susie McBaine, Meriwether McGettigan, Cynthia Molstad, Diane Morris, Jeffrey Roos, Patsy Schuchardt, Ann Seymour Morehead, Katherine  Shephard, Tania Stepanian, Phyllis Swindells, Wendy Tyndall, Sharon Wick, and Cynthia Woods. 
EVENT HOST COMMITTEE
Dr. Sarita Satpathy (Event Chair), Laura Bass, Leyla Daneshmand, Pharm D., Dottie Dutton, Michele Hanson, Karen Horton, MD, Kathleen Houlehan, Brandi Hudson, Jaime Jensen, Camalin Jones, Chris Meza, Elizabeth Parr, PT, Shalini Patnaik, Kathryn Power, MPH, Nicole Prieto, Rochelle Proctor, Monica Shaham, Lauren Simeone, Mahsa Tehrani, Kathleen Toland, and Daniella Vallurupalli.
About The Saint Francis Foundation
The mission of the Saint Francis Foundation is to raise funds and make grants that support and enhance the ability of Saint Francis Memorial Hospital in San Francisco to deliver exceptional healthcare services and compassionate care to its patients and to the communities the hospital serves. Established in 1979, the Saint Francis Foundation manages approximately $93 million in assets pledged to both the Foundation and the Hospital, representing the generosity of more than 4,000 donors. For more information, visit www.saintfrancisfoundation.org or call 415.353.6650.
About Saint Francis Memorial Hospital 
Dignity Health Saint Francis Memorial Hospital is an accredited, not-for-profit community hospital that has been providing exceptional health care in San Francisco for more than 100 years. Located atop Nob Hill, near downtown San Francisco, Saint Francis is home to the Bothin Burn Center, the largest in Northern California, and the Orthopedic and Sports Medicine Institute. With its close proximity to downtown San Francisco, Saint Francis also specializes in Occupational Health and Emergency Medicine. Saint Francis has been designated as a Blue Distinction Center for Spine and Hip/Knee Replacement Surgery and is a Certified Stroke Center by the Joint Commission. For more information, call 855.992.9873 or visit DignityHealth.org/SaintFrancis.